"I am participating in the 'Writing Contest: You Are A Writer' held by Positive Writer."
Writing has always been enjoyable and something fun.  The thought occurred to me many times to embrace writing with a bit more purpose, but it wasn't until my friends started pushing  me that I really considered it in earnest.  Comments like, "You should write a book because you just can't make this stuff up!" or "Your story is priceless and needs to be shared!"
I was living on an amazing 150 acre farm with my son and was very content and prepared to grow old by myself, but my friends insisted that I was too young for such measures.   I told them, "The only way I would consider otherwise was  if a man shows up on my porch wearing cowboy boots, says yes ma'am and is like pastor Dan from the movie Raising Ellen".   Well don't you know,  down to the farm and onto my porch comes this man wearing cowboy boots, answering my question with a yes ma'am and after hours of amazing conversation I came to believe he was my pastor Dan.
I didn't want to be on that farm initially.  I was forced to take refuge there from an abusive marriage.  I wanted to raise my son in the woods and in a cabin away from everything.  Little did I know God's plans included that farm in PA and who knew that my adventures with this man would take us 2500 miles across the country to the Idaho wilderness where I was to embrace my dreams and my writing.
We wed in front of our families on his 30th birthday and Easter Sunday in April of 2010.  A little over a month later we loaded up a 26′ Uhaul and encased a 24′ gooseneck flatbed trailer in plywood and loaded her up.  Two dogs, a hamster, my husband, my boy and I traveled cross country to our raw land untouched in the Idaho wilderness that we purchased site unseen.  It was the trip of a lifetime and we too were loaded down with excitement and anticipation.  After a 2.5 mile ride on an old logging road that was also untouched for many many years, we arrived at our overgrown wilderness wonderland.  We backed the trailer onto the property and began to setup camp.
Camp was our home for 8 1/2 months while we cleared our land and built our home with our hands the good Lord gave us.  We lived in an 8′ x 14′ canvas wall tent from May to December.  There was a foot of snow on the ground when we moved from the tent to the house.   What an amazing time it was.  There has never been anything more gratifying to any of us.  All that hard work, long days and sore and aching bones was rewarded with the comforts of a home.  A home that we built.  I would do it again in a heart beat.  Living in that wall tent was back to our roots living with dirt under our feet and traditional living at its finest.  Simple living if you will.
Now, let's jump from December of 2010 to April of 2012.   There I was sitting on my couch by the roaring fire checking my emails, 3 weeks into my writing class and a week after my teacher suggested that I query some magazines with my ideas.    To my surprise there was an email response to one of my queries to The New Pioneer Magazine and the additional surprise was that they accepted my work!   Woohooo!
Filled with awe and amazement, I set my laptop down and ran down the stairs to find my Mountain Man outside.  We both grabbed the doorknob at the same time from opposite sides of the door and needless to say with my excited energy I quickly won the tug of war, but to his surprise I end up in tears.  My excited energy burst at the seems and my excitement left me with happy tears, but my poor Mountain Man's 1st thought was that someone had died!  Poor guy!
Once I explained, we both celebrated this new door that God had so quickly opened for us.
I wrote that particular article and 8 more throughout the year for The New Pioneer Magazine.  As if writing the articles wasn't enough of an opportunity, we received a phone call in October asking how we would feel about being on the front cover of the Spring 2013 issue to go along with  my original article that would debut in that issue?  Can you say, WOW?!?!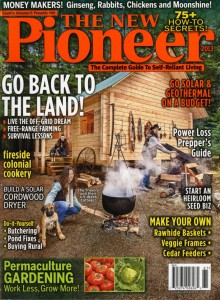 This is not the norm, but we are not normal, however,  we are very blessed!
I am officially a writer and have celebrated my 1st year anniversary this year.
With 21 articles under my belt and 9 more to write,  a contributing writer for both The New Pioneer Magazine and Self Reliance Illustrated, 3 e-books in the works and other titles in the wings, a new radio show on the Survival Mom Radio Network and a growing blog at www.MountainWomanJournals.com, I am well on my way.
We are living our dream off-grid in the northern Idaho wilderness, sharing our knowledge with other and living the simple life.  Life is good!
Embrace your dreams and make them a reality.  Don't live your life wondering "What If"!